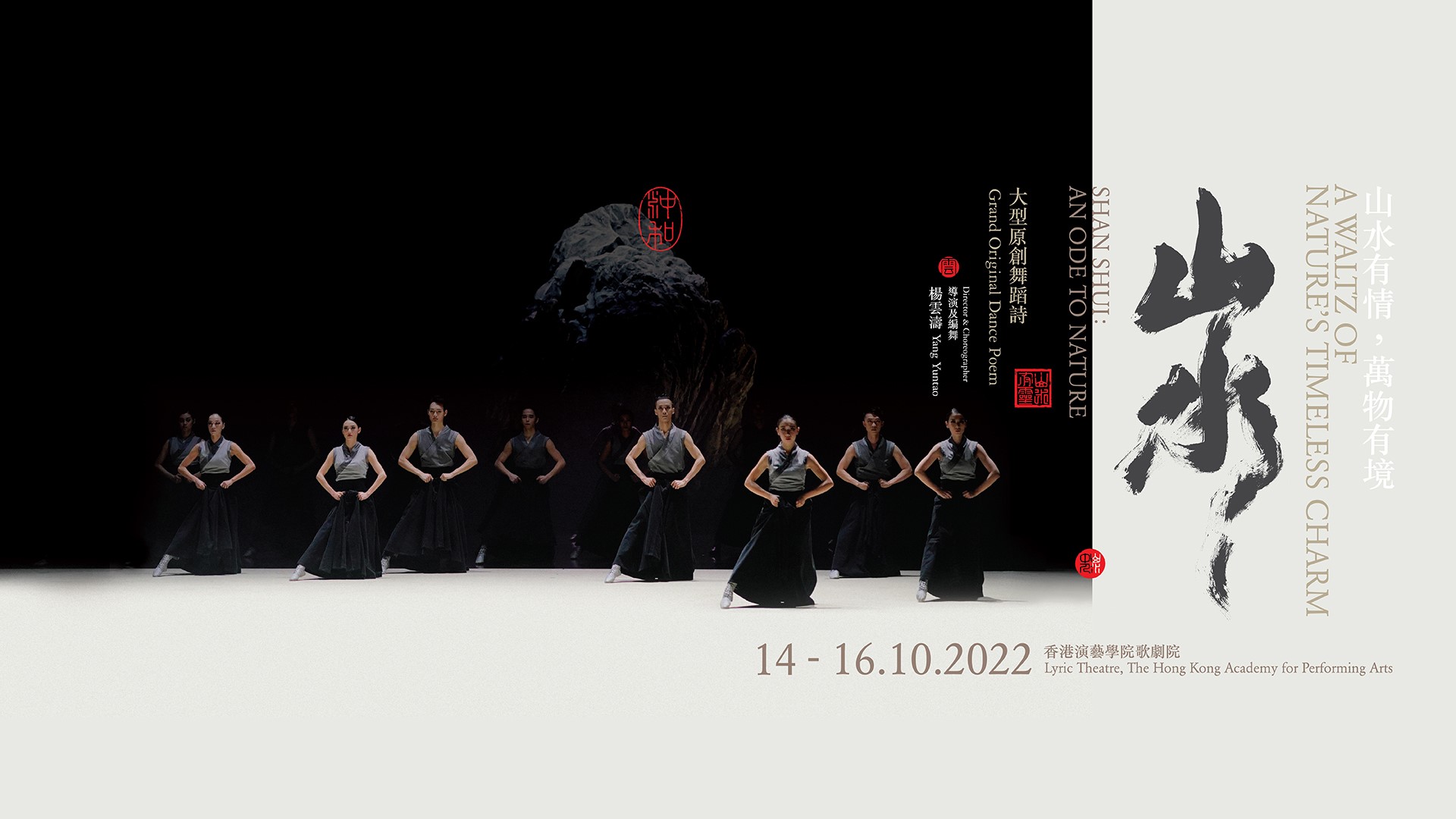 𝓢𝓱𝓪𝓷 𝓢𝓱𝓾𝓲: 𝓐𝓷 𝓞𝓭𝓮 𝓽𝓸 𝓝𝓪𝓽𝓾𝓻𝓮
A Waltz of Nature's Timeless Charm
Venue:
Lyric Theatre, Hong Kong Academy for Performing Arts
Ticketing:
$480, $380, $280, $180, $80
Synopsis
Sense the power of nature through the body
Hong Kong Dance Company draws on the image of nature under the brush, painting an inner world beyond the confines of time or space through dance. The dancers' bodies become the brush's dots, dashes and vigorous strokes; they are the artist's eye for rhyme, rhythm and internal beauty.
Sense the power of nature through the body, take in worldly beauty and meditate on the origins of life. Pass through mountains and over waters, and with a full heart, let the limits of the self and the physical world dissolve.
Premiered in 2021 as Hong Kong Dance Company's opening performance for its 40th anniversary dance season, Shan Shui: An Ode to Nature has won wide acclaim. The Company's three-year research study on Chinese Martial Arts and Chinese Dance has brought elements of Chinese martial arts into dance training, constructed a richer texture of dance and taken the dance performance in Shan Shui to another level.  Shan Shui was selected as one of ISPA 2022's Pitch New Works projects.
Grand Original Dance Poem 𝓢𝓱𝓪𝓷 𝓢𝓱𝓾𝓲: 𝓐𝓷 𝓞𝓭𝓮 𝓽𝓸 𝓝𝓪𝓽𝓾𝓻𝓮
Production & Artistic Team
Director & Choreographer:

Yang Yuntao
Composer & Music Director:

Paul Yip
Set & Costume Designer:

Tsang Man-tung
Lighting Designer:

Gabriel Fung
Digital Images Designer:

Oliver Shing
Sound Designer:

Anthony Yeung