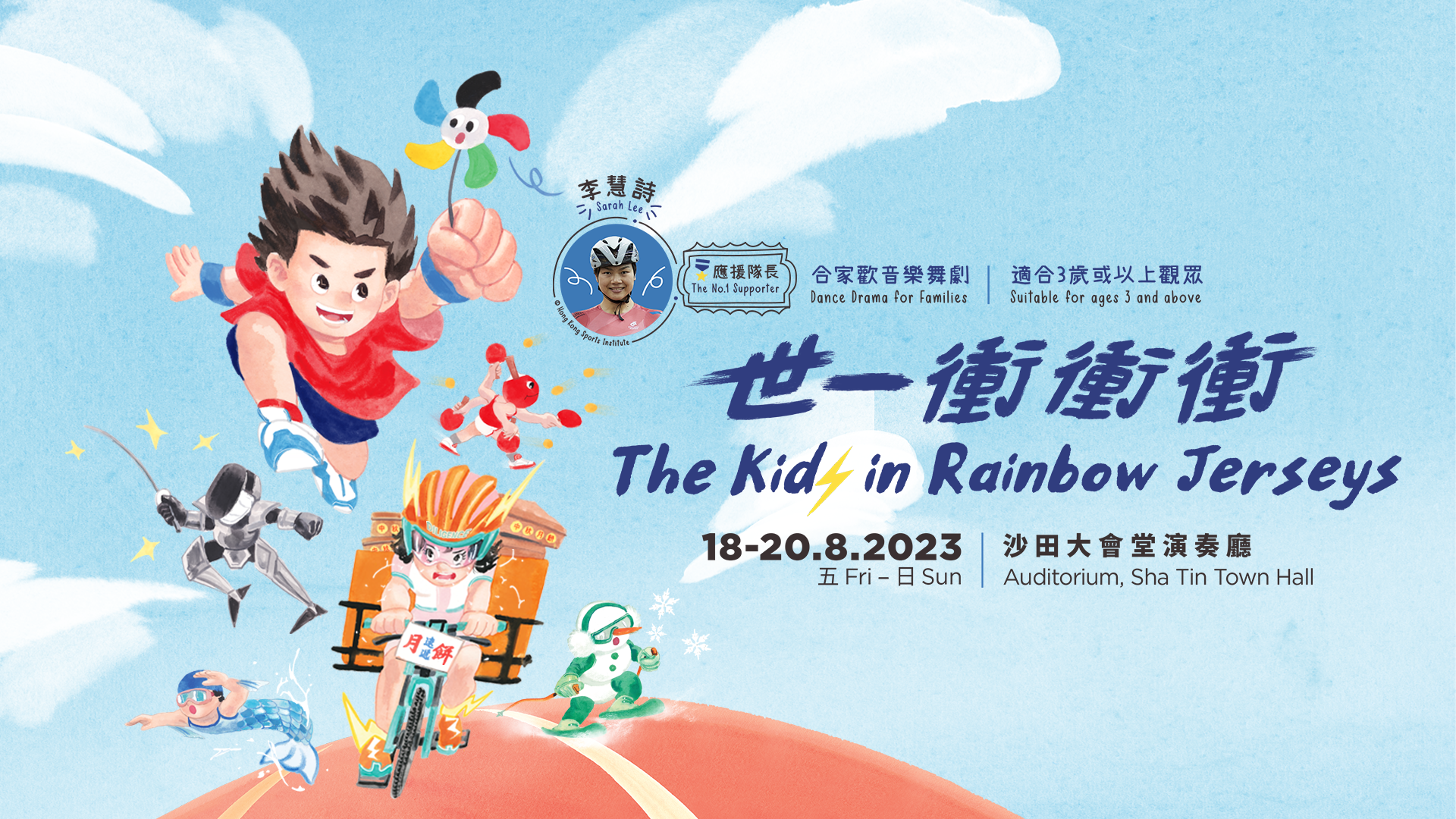 The Kids in Rainbow Jerseys
Don't lose your way!
Venue:
Auditorium, Sha Tin Town Hall
Ticketing:
$360, $260, $160, $100
Synopsis
Be determined, but humble, and one day you'll be a champion!
Move forward with passion and courage, race resolutely ahead, and persevere to the end! Join Hong Kong Dance Company's professional dancers and more than 300 young talents from our Children and Youth Troupes in a delightful song-filled dance drama telling stories of indomitable athletic endeavour. Together, we will win that gold medal! May your hopes and dreams never be extinguished, be it on the runway, the court, in the ring, the pool, on stage or otherwise. For the flame that courses through our veins is what propels us to victory!
Let us begin by toiling with our sweat and tears for that glorious moment in the sun.
🎨 [Application Form] Colouring Contest & Sports Fairy Design Contest
Production & Artistic Team
 

Artistic Director: Yang Yuntao 

Concept/Choreographer/Artistic Coordinator: Cai Fei 

Artistic Coordinators: Ke Zhiyong, Wu Kam-ming 

Deputy Artistic Coordinators: Carmen Yau, He Chaoya 

Scriptwriter: Simon Wong 

Choreographers: Instructors of HKDC Children's and Youth Troupes 

Music Director/Composer: Yin Ng 

Lyricist: Cheung Cho-kiu 

Costume Designer: Bacchus Lee 

 Set Designer: Angelica Fung 

Lighting Designer: Kinphen Leung 

Video Designer: Lowing

 Sound Designer: Ha Yan-pui

 Theatre Instructor: Melodee Mak

 

Performers:

Hong Kong Dance Company

HKDC Children's and Youth Troupes