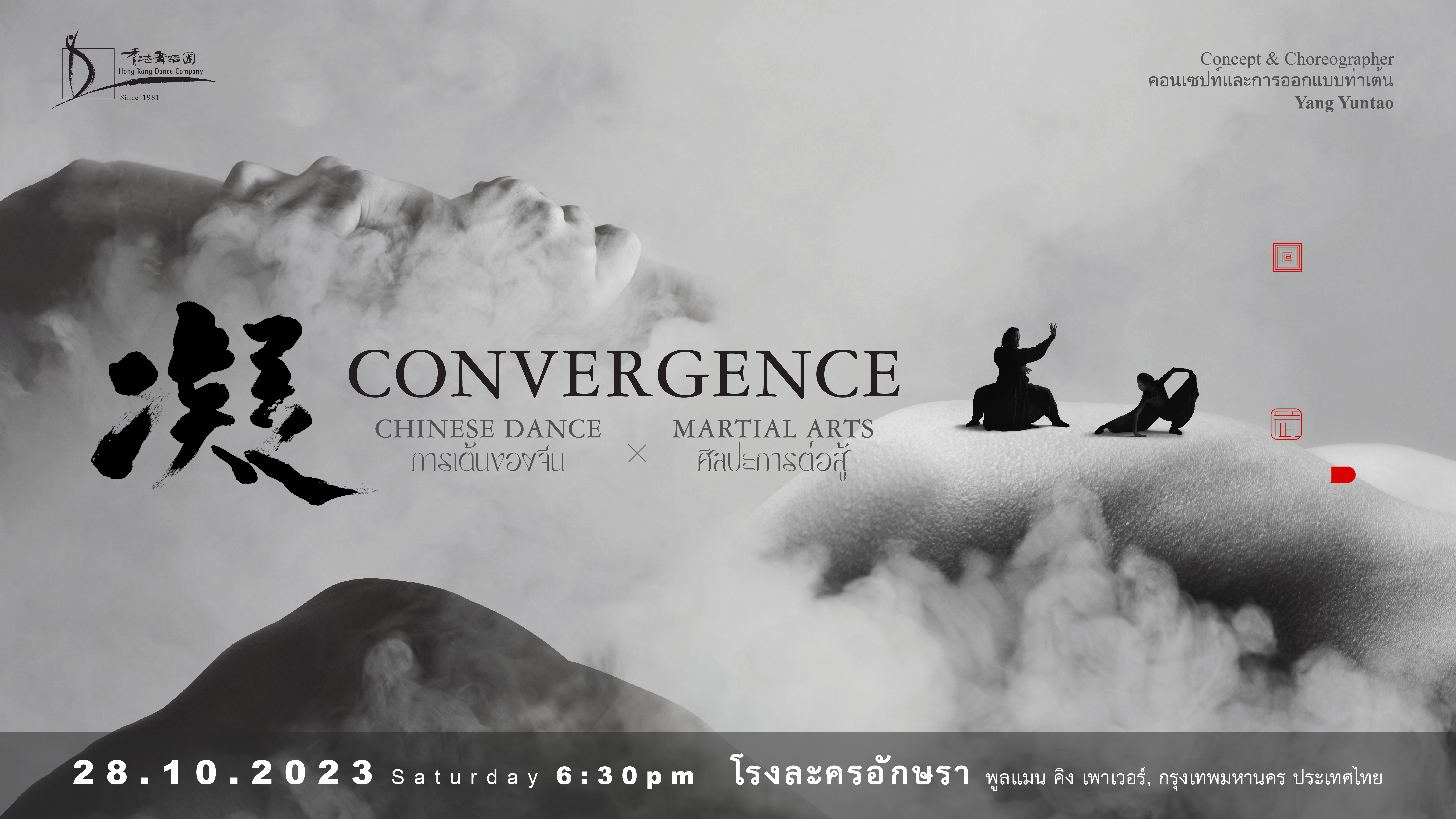 Convergence - Infinity of Movement and Stillness in Bangkok
Aksra Theatre, King Power Complex
Ticketing:
1500 / 1000 / 800 baht
Synopsis
Organised by the Leisure and Cultural Services Department and supported by the Ministry of Culture, Kingdom of Thailand, Convergence is going to premiere at the Hong Kong Week 2023@Bangkok. Hong Kong Week (HKW) is presented as a festival showcasing the essence of Hong Kong arts, and fostering cultural exchange between Hong Kong and cities in Mainland China as well as overseas. HKW was held in Shanghai, Guangzhou and Wuhan, this year marks the first time for HKW to be taken place overseas in Bangkok, Thailand. Hong Kong Dance Company has been invited to bring the award-winning dance performance Convergence to wow the audience of Thailand.
Convergence is a culminating work created through an interdisciplinary research study on both Chinese dance and Chinese martial arts traditions. HKDC Artistic Director, Yang Yuntao, alongside a group of dancers, have collaborated with kung fu masters of the southern style for three years from 2018. The partnership has yielded the essence of the Chinese martial arts which, as adapted by the research team, allows for a more profound understanding of the relationship between the sensorial body, the fluidity of movement it creates, and the philosophies of the East for the use of dance. Convergence made its debut online in 2020 and received great critical acclaim.
Infinity of Movement and Stillness
Breathing new life into artistic creation and dance movements by revealing the authenticity of Chinese martial arts.
In Hong Kong Dance Company's three-year-long study, its artists have explored the essence of both traditional practices, extracting new perspectives on movement and the fluidity of expression between ideology and physical gesture. Convergence brings these discoveries together, capturing the transient between stillness and motion, tranquility and exuberance; all that one may find through the synergy of dance and martial arts.
Production and Artistic Team
Concept/Choreographer:

Yang Yuntao
Composer/Sound Designer:

Paul Yip
Lighting Designer:

Gabriel Fung
Digital Image Designer:

Oliver Shing
Dancer:

Hua Chi-yu, Ho Ho-fei, Lam Yin-yi, Ong Tze Shen, Tong Chi-man, Chou Jo-yun, Ho Gi-lam, Huang Haiyun, Lee Chia-ming, Ng Ka-ling, Tai Chon-u, Zhan Qian
Tour Producer:

Carrol Ho
Tour Manager:

Ruby Kwan
Production Manager:

Alex Wong
Stage Manager:

Derek Chan
Deputy Stage Manager:

Oliva Li
Assistant Stage Manager:

Tammy Tsang
Technical Officer (Stage):

Billy Choi
Wardrobe and Hair-dress Supervisor:

Luise Yau
Make-up and Hair-dress Master:

Jadeson Fu
Artistic Coordinator:

Carolyn Yip
Tour Marketing:

Jenny Lam, Bailey Yeung, Freya Cheung
Ticketing:

Freya Cheung